A Hole in the Bucket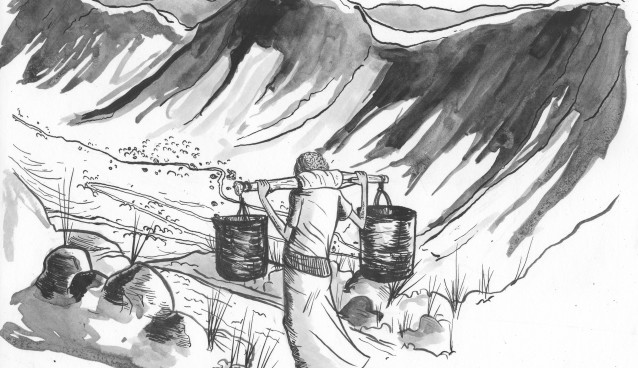 Shasa slapped at her cheek, the tickling flutter of a blowfly on her eyelid wrenching her from troubled dreams. Her skin was already sticky with dried sweat from the early morning heat. She lay for a few selfish moments with her eyes squeezed tight, her head cradled uncomfortably between the loose straps of her cot. The malaise of the wanjala heat rested on her chest like a sack of maize.
Her mind whirred into action, though her body desired nothing but stillness and peace. She had once again dreamt of a house at the base of the mountain – with big windows and clean orange bricks, a tiled floor, and water flowing from shiny pipes. Holding her eyes shut, she lived in that world for a final moment.
When she opened them, the scene she took in was simple and familiar – the shuffling lumps of her three children in the small cots across the room and the line of ancient pots and dusty bowls on a crooked shelf on the wall furthest from her bed. She sighed as her eyes fell on the four buckets placed carefully next to the door. Two were large, orange plastic pails, large enough for her youngest son to sit in. Her neighbor's daughter had found the plastic buckets and generously given them to Shasa. The other two were large metallic things, like oversized lampshades drowned in bullet silver, discolored and dented from top to bottom.
Shasa had begun calling them sabuni and supu, because one type held the water used for washing and cleaning (soap/sabuni), while the other type was used for cooking and drinking (soup/supu). Shasa pushed herself to a seated position, instinctively reaching for her back, which seared in protest against movement of any kind. She slipped her feet into the worn sandals beside her bed and pushed down on her knees as she hoisted herself to stand.
Spontaneity was no longer a part of her reality, and had not been for more than a year. When the family donkey fell ill and died, Shasa knew that it signaled the end of what little freedom she'd gathered in a pile since the third child was born and her husband was killed. Her days marched on in the static pattern of survival, with thoughts and breath borne of need.
She shuffled to one of the metal buckets and looked inside, barely illumined by the dim glow of the morning. A few bugs, no more or less than usual, drowned or fluttered in the shallow puddle that remained. Shasa cupped her palms and scooped out a tepid handful, which she sipped gently from, and then tossed onto her parched face. It was a shock to her system, warm as it was, and it washed the final groping strands of sleep from her eyes.
There was some ugali left in a pot that her daughter had prepared the evening before. Shasa trudged to the detached kitchen off the back of the house and assembled a few pieces of kindling beneath the charred memory of the last fire. Her practiced hands coaxed the flame to life to heat the cornmeal porridge that would feed all four of them for the day.
Their living space was small, and she knew that even with her nearly silent, practiced movements, some shift in the air would disturb one of the children, and the other two would follow soon after.
Bakari was typically the first to rise, often before dawn, within moments of Shasa's first tired rumblings. Shasa teased that Bakari's uncanny hearing was due to the size of her ears. She had called her daughter tembo kidogo since birth, and though Bakari blushed and hollered when Shasa used the term of endearment, meaning little elephant, her daughter secretly adored the name.
Bakari's two younger brothers, Hamidi and Hadiya, were irascible young boys of 4 and 6, always getting into trouble, but tiring themselves out by late afternoon, the pangs in their hollow stomachs often sapping their exuberance. Shasa saw none of this, but was told of her son's daily antics by her elderly neighbor, who spent most days sitting outside her corrugated shack, tending to and lightly sweeping backhands at the small gaggle of grandchildren she guarded.
She boiled a fresh pot of orange bucket water over the coals, which sputtered pitifully. A groaning yawn from a son behind her meant that the day would soon begin, and she would be out the door. Shasa surreptitiously glanced to her yolk leaning crooked behind the buckets, and the twinge in her shoulder ached in knowing reply.
"Habari za asubuhi, Bakari." Shasa wished that her voice held more force, something to reflect excitement for the day ahead, but it sounded flat to her ears.
"Good morning, mother."
Shasa's neighbor never mentioned Bakari playing with the other children; the slender girl was quiet and composed, much older in spirit than years. She effortlessly learned the tasks of the home and pursued her studies diligently, but never eagerly, as though she understood that her time in the classroom would soon come to an end.
"It is time for me to go, tembo kidogo," Shasa said, continuing to stir the porridge as the stove heated up. "Can you make sure your brothers eat?"
"Yes, mother, but I want to go with you. May I come today?"
"No, Bakari, not today. You do not want to go with me. Mind your brothers. Be a good girl. I will see you later."
"Yes, mother. But when will I come with you?"
Bakari was naturally curious, which was inspiring to Shasa, but Bakari's desire to literally follow in Shasa's footsteps was heartbreaking.
"When, child? Hopefully never. At least, not for many more months."
***
Read the rest of this story in – SN6: MAYDAY ON AMAZON
Comments
comments